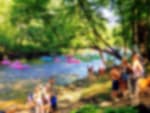 Cabins in Helen Ga
See Availability | Get a Quote | Book Now
up to 20% Off (discounted from price shown) ...
You will see Discounted Amount prior to Booking on Book Screen
NOTE: We typically have a 3 Night Minimum - 2 night rentals are based on availability -
please call/text us to request 706-773-1040
Available Cabins for your Dates
| Pet Friendly and Walking Distance to Downtown Helen |
Bear Creek Lodge and Cabins in Helen Ga
Pet Friendly - Bear Creek Lodge and Cabins in Helen Ga is located 3 blocks walking distance to Downtown Helen on 9 acres with over 300 ft. of Trout Fishing, River Tubing waterfront on the Chattahoochee River.
We have some Cabins on the River and others quietly tucked into the mountain and valley that surrounds the fun and lively town of Helen. Most guests at Bear Creek just walk into town (it takes about 5 minutes).
Trails connect all cabins to the riverfront area where guests can enjoy Horse Shoes, Corn Hole, Bubbles and more with Hammock Chairs along the river.
We have Bikes, River Tubes, Riverside Grills, Fire Pits and free Fire Wood. Most cabins have a Private Hot Tub and ALL cabins have WIFI, ROKU TV's and a Blackstone Flat Top Gas Grill on their deck as well :)
We always allow your "4 legged" friends to bring you on vacation with them :)
We've found that once you stay at Bear Creek Lodge and Cabins ... you will return someday!